Working Together To Build A Dream.
Our Mission Statement:  To create a multi-generational community that is safe for all, that promotes social interaction, and that provides the opportunity to live lighter on the land.
Won't you be our neighbor??
We are currently looking for members of all ages to join our group.
A Cohousing neighborhood is a community of privately owned homes that cluster around a shared open space, a community garden and a Common House that incorporates a gourmet kitchen, a large dining hall, multi-use activity rooms, guest quarters, lounge areas, pool, outdoor activity areas, workshops and other areas as planned by the community members. 
COHOUSING Information get-togethers
You are invited to a FREE INTRODUCTORY PRESENTATION about Cohousing.  Meet current members and planners of the Auburn project who will share information and answer questions to see if Cohousing might be right for you. No obligation. We have presentations on the third Thursday of every month, 6:30-7:30 PM at the Unity Church of Auburn, 1212 High Street, Auburn, CA

(cohousing is not affiliated with the church)

The Next introductory presentation is Thursday, May 18 at 6:30 PM. All interested are invited but an RSVP is required. For introductory presentation information, please email us at :information@auburncohousing.com Please join us for this information session!
A welcoming neighborhood community is coming to you at Auburn Cohousing!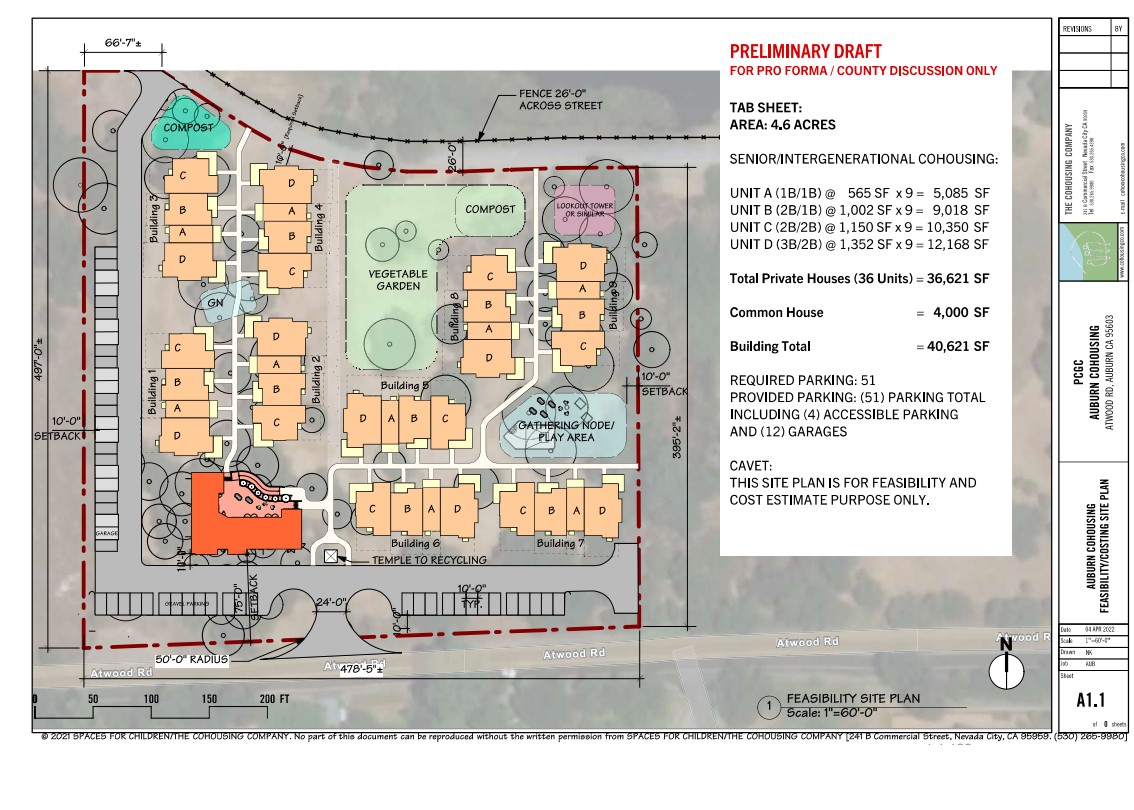 We are in negotiations for a parcel of land in North Auburn with beautiful heritage oaks and an adjoining pond.
How to become part of Auburn Cohousing
Attend our Introductory Presentation (Third Thursday of every month)
Sign up for email information
Join us as an Explorer: Sign up at information@auburncohousing.com
As an Explorer, attend our weekly planning meetings, Introductory Learn-Abouts, social events and design sessions.
Become an Equity Member and commit to joining us in our weekly planning meetings, social events and Design Sessions as we create and finalize plans and build our dream neighborhood.